JARVICE Drop Storage Vault
The default storage area is available as /data in your application environment and is where Jarvice applications primarily read and write data. You can transfer files in and out of drop.jarvice.com using an sftp client.
Nimbix provides you with up to 1 terabyte (TB) of free data storage for your compute jobs in a service called drop.jarvice.com. You can upload and download your data at any time whether you are running jobs or not, via the Secure FTP protocol (SFTP) and or using our Nimbix File Manager over HTTPS. Please note, it is best to use SFTP for large file transfers, i.e., any file over 100 GB.
Connecting with SFTP (Recommended Method)
SFTP provides better performance and is especially helpful when moving large files.
Here is a quick video tutorial on how to transfer to and from Nimbix using SFTP or you can continue reading the instructions below.
You can log in with your JARVICE username and your JARVICE account's API key as the password.
If you are behind a corporate firewall, you may need to request OUTBOUND access to port 22 (TCP) from your IT department.
Step 1: Download an SFTP client, such as FileZilla.
Step 2: Configure your client and connect
server hostname: drop.jarvice.com
port: 22
username: Your JARVICE username
password: Your JARVICE API key, accessible in the settings area of the portal at https://platform.jarivce.com. For help finding your API Key, see related article Where do I find my JARVICE API Key?
Step 3: Transfer files to and from your drop.jarvice.com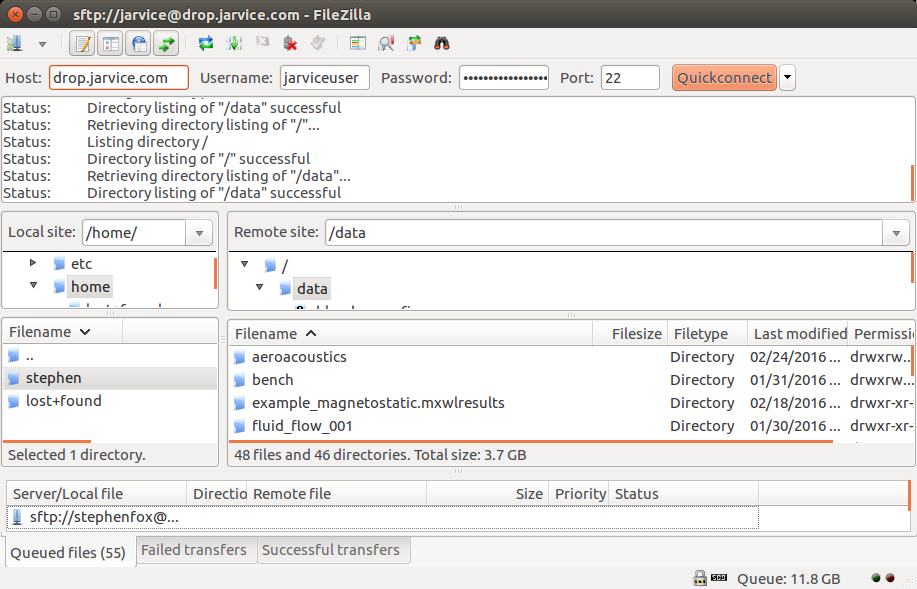 Step 4: Run your application. Your files will be available in your environment under the /data directory.
Using the Nimbix File Manager to move data over HTTPS
In order to use the Nimbix File Manager, please follow the quick and easy steps below.
Login to the portal at https://platform.jarvice.com.

Click "Compute" in the top navigation bar.

Scroll down to and click "Nimbix File Manager".

This will expand the application drop down. Click on "File Manager".

This will take you to a "Task Builder" screen. At this point unless instructed otherwise, please take all of the defaults, and click the green "Continue" button.

After you click the "Continue" button, this will bring you to a "Confirm job submission" screen. Please click "Submit".

After clicking "Submit", you see a "Job submission response". Please click "Ok".

Once this is done, you'll be returned to your Dashboard. After a few seconds, you'll see a new job titled "Nimbix File Manager: filemanager", please click on this next.

Once you've clicked on this, you'll now want to click on the green "Connect" button.

A new browser window will appear, asking for a password. You'll notice that user nimbix is already filled in. To get your password for the File Manager, click back to your Dashboard tab and click "Click to show" for your password.

Once you have your password, paste this back into the File Manager browser tab, and click the arrow pointing right.

At this point you should now see the content of your /data folder. At this point you can now drag and drop files and folder from your local machine to your /data, aka drop.jarvice.com.
Once you're done moving data, you can go back to your Dashboard and click the "Shutdown" button, to stop the File Manager.