How Many HPC Packs Do You Have?
Ansys HPC packs can be a little confusing if you're not exactly sure how they work. The first thing you'll want to know is how many HPC packs you have. If you're not sure how many HPC packs you have, you can contact your license administrator or if you have access to your license file, you can always check inside your license file at the top. All the features in your license are listed here, including the number of HPC Packs highlighted in red. See below.

How Many Cores Can I use with My Ansys HPC Packs?
This is where things get a little confusing, but once you have a basic understanding of a few principles you'll be able to calculate this all pretty easily. The one thing you'll need to remember is that the solver  gives you a base of 4 cores initially, then you add the HPC Pack cores on top of that 4 cores. So take a look at the graph below.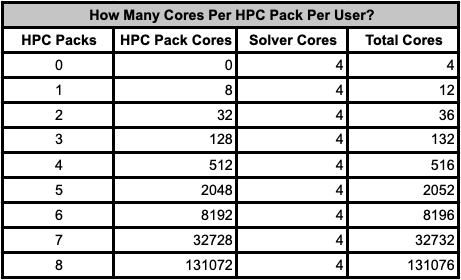 In the above table you can see that HPC Packs scale up pretty quickly. At 0 HPC Packs you can run on 4 cores that are provided by the solver. The first HPC Pack gives you 8 cores and then every additional HPC Pack added, you multiply the number of HPC cores by 4 and add the base 4 cores from the solver.
By the looks of this table, you may think that 8 HPC Packs is more than enough, but the caveat is that this table only reflects how many cores you get per user. This means that if you have 4 HPC Packs and you have 2 users, then you have to split up the HPC Packs rather than the cores. So for instance, with two users running, here are the possible ways to share those HPC Packs.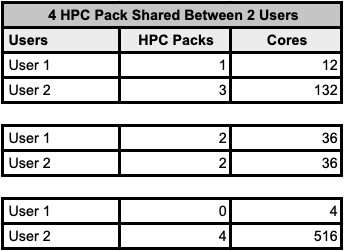 As you can see, the number of cores that a user is able to run on varies greatly on how many users are actually sharing the license at the same time. So while 8 HPC Packs looks like a lot of cores, if you have 8 users running simultaneously, each user is only going to be able to run 8 cores.
For more information on Ansys HPC Packs and your license, please contact your Ansys representative.