Once you've invited new members to your team, you may want to give permissions to specific team members or even restrict some others. You can do this inside the Team page. Just click on "Account > Team" to see a list of your team members. On this page you'll be able to give permissions, set restrictions, lock, or remove users. Let's walk through what each option does.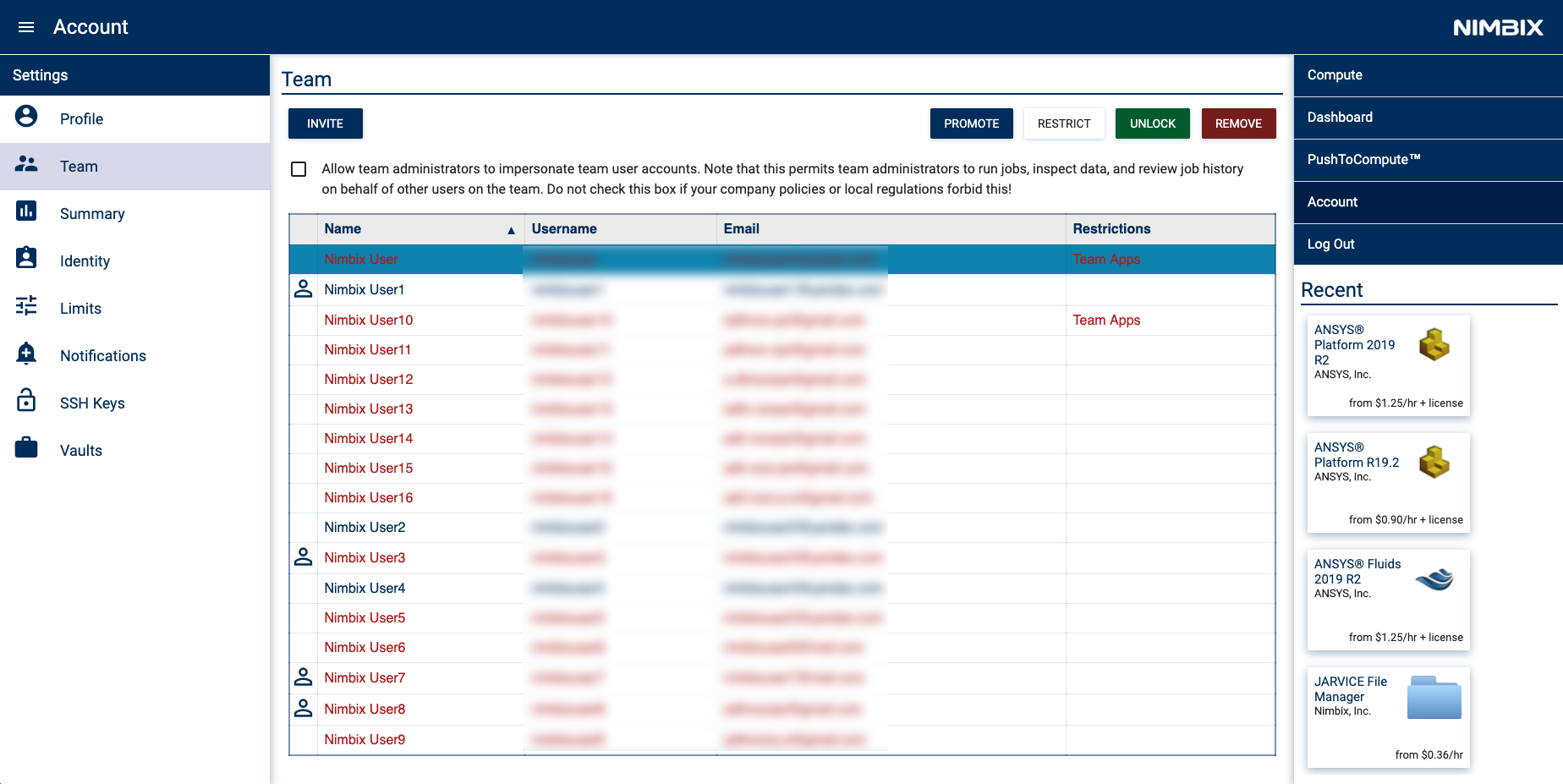 Promote: When you promote a user, it changes the selected user's role to "Team Admin". This will give that user all capabilities that the team owner on the account has. The only exception is that a Team Admin will not be able to change billing information. Team admins will have an identifier next to their names to display they are an admin. You can see the identifier on the left next to Nimbix User1, Nimbix User3, Nimbix User7, and Nimbix User8 in the picture above.
Restrict: This option allows you to restrict users to only be able to use team applications (Team apps are applications that you have built inside PushToCompute). If you enable this option, the user will not see any other applications in our app catalog. You will see "Team Apps" listed as a restriction if this option is enabled.
Lock: This option will lock the selected account so that it cannot be accessed by the user and make the name red so that team admins can see which accounts are locked.
Remove: Removing a user from your team automatically kills all his/her jobs and optionally locks the account. If you choose to lock the account and its data, you must contact Support to recover it.
Just select the user that you want to take an action on and click one of the options above in order to take action.
If you have any issues or questions, don't hesitate to reach out to support@nimbix.net and we'll make sure your team is set up the way you want it.