Below are a few things to consider should you observe slow upload or download speeds when moving data to/from the Nimbix Cloud. While there are always a few things out of our control, i.e., physics and the speed of light (latency), here are a few things to consider when dealing with slow uploads and downloads. (Also see: Common Tools You Can Use to Diagnose Network Issues)
Which method of data transfer are you using?
Are you moving lots of small files or single large files?
Moving lots of small files can negatively affect the performance of TCP/IP, and creates overhead for the protocol itself. When possible, please archive/zip your results or files into a single file, as this will offer significantly better performance over lots of small files. If you're unclear how to archive your files, please reach out to

support@nimbix.net

, and we'll walk you through this process.
Is your IT policy limiting your bandwidth?
It's also important to keep in mind that your local IT policy might be limiting your bandwidth. It's not uncommon for IT organizations to apply policies at a proxy server and/or firewalls. When this happens, we can assist with talking to your IT organization about "white-listing" Nimbix end-points to improve your upload/download speeds.
Does your desktop client have a host-based firewall, like McAfee, which could be limiting your bandwidth?

Does your company use an HTTP proxy, which could limit available bandwidth for data-movement using the HTTP/S protocols?
What desktop client are you using?
There are cases where running an operating system, like Windows 7 and earlier, you'll see degraded performance over something a bit more modern like Windows 10. This can also apply to earlier versions of macOS, etc. There are some client-side TCP stack optimizations that can be done to improve performance.
What is your actual bandwidth?
Another critical factor here is to understand what the physical bandwidth is available to you at your organization and the sizes of those "pipes." It's also essential to get a sense of what utilization looks on those pipes. If you're interested in getting a better understanding of what bandwidth is available to you, you can launch a Speed Test app on the Nimbix platform. See the attached screenshot for details.

Make sure to use the Nimbix Speed Test app instead of a browser based speed test for the sole reason that our speed test connects to our servers for the test. This will give you more accurate results. Other speed tests will connect to servers closer to your location in order to give you the fastest speed results.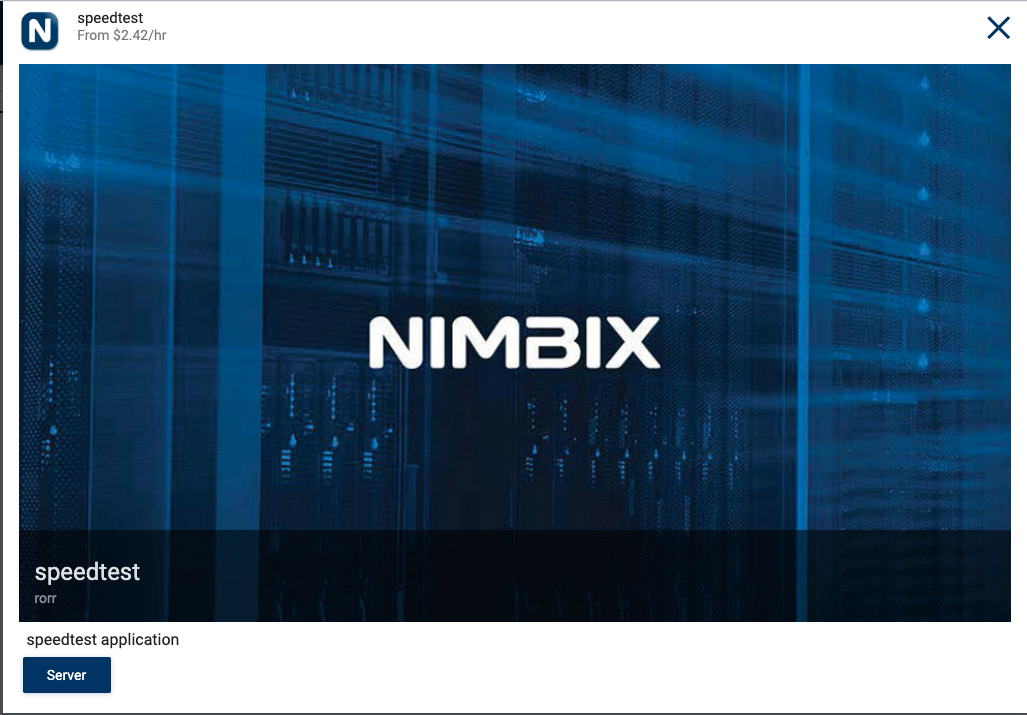 Once you've launched the Speed Test app, follow the prompts on how to test.
Should any of the above scenarios apply to you or if you have any additional questions about data movement to the Nimbix Cloud, please reach out to us at support@nimbix.net.